The steering / handlebar
The steering / handlebar
The choice of this bicycle component depends on the type of bicycle you are looking at. For a race / road bicycle, you want it as lightweight as possible. Secondly, there is a new trend to put an extra straight section on the tubes of the steering, were the hands normally fall. The figure below illustrates this.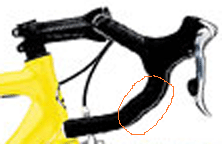 Image source: http://www.giant-bicycle.com
This straight section provides a better grip position for the hands and is more comfortable, especially on long rides. Hybrids and all terrain mountain bicycles use a more or less straight handlebar. The more straight the handlebar, the better. It provides an improved sense of control of your direction while riding. Avoid too curved designs. The curved handlebars are mainly attractive if you favor increased comfort over better handling of the bicycle. They raise your sitting position, thus making it easier on your back. The drawback is that as you stand higher on the bicycle, you also will offer much more air resistance. This will drastically reduce your speed as you ride and make it more difficult for you move forward.