Trekking / expedition / touring
Trekking / expedition / touring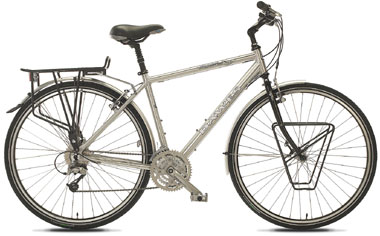 Image source: http://www.dawes-cycles.co.uk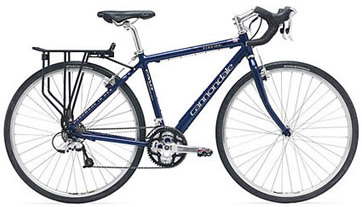 Image source: http://fr.cannondale.com
Trekking bicycles are best suited for long rides in changing road conditions. These are bicycles made for expedition trips. As you can see on the above pictures, these bicycles are made with one idea in mind: be strong. For instance, they usually have more spokes on their wheels to increase the usable workload. These bicycles can carry as much as 60 Lbs of extra weight, evenly spread over the back and front wheel racks. The ideal weight ratio should be around 70 / 30 for back to front racks. You do not want to put too much weight on the front wheel as it will greatly reduce your bicycle's maneuverability during turns. The bicycle will tend to want to keep a straight line path. So be carefully about weight ratios. Of course, as you load any bicycle with extra weight, you must pay close attention to your tire pressure. Inflate the tires at about the middle recommended value, between the minimal and maximal pressure values. These values are written on the side of the tire.
The brake system choice is also made toward stronger types of brakes such as the V-brakes or even disk brakes on newer, more expensive models. As the weight augments, it becomes harder to stop these bicycles, especially if you are traveling during rainy conditions. Dirt and mud can greatly diminish the efficiency of some braking systems. The V-brakes and disk brakes are much less sensible to this and will remain effective over all conditions.
You may have noted that the two trekking bicycles showed above are quite different. The first is made from an hybrid bicycle (we will review them in the next section) while the second is made of a road / street bicycle frame. Using hybrid frames for trekking is a new trend that started about 5 years ago. The road / street trekking bicycles are the older variation of this type of bicycles. They were used for many years and still are by some people.
A note about racks. You can see on the first picture that the front wheel rack is located lower, just over the wheel hub. This is the preferred front rack model. The reason is that the weight is lower, thus lowering the bicycle's center of gravity. This will provide a more steady and stable ride.
 In summary:
The trekking / touring bicycle is pretty much a reinforced version of the street bicycle type. The main differences are:
the use of ATB grade brakes (V-brakes)
stronger wheels with more spokes
lower gear ratios and more speeds
Some times a reinforced frame tubing structure